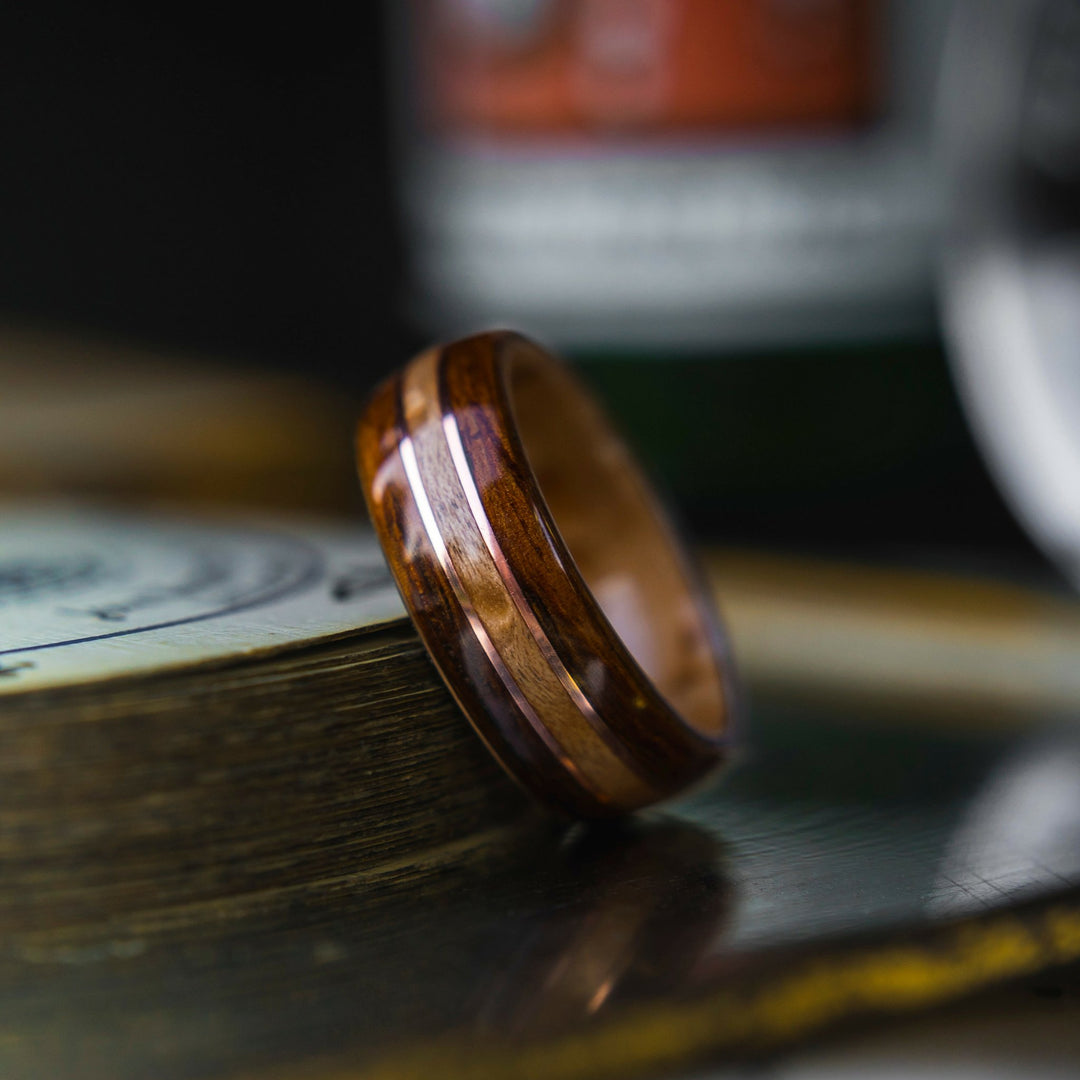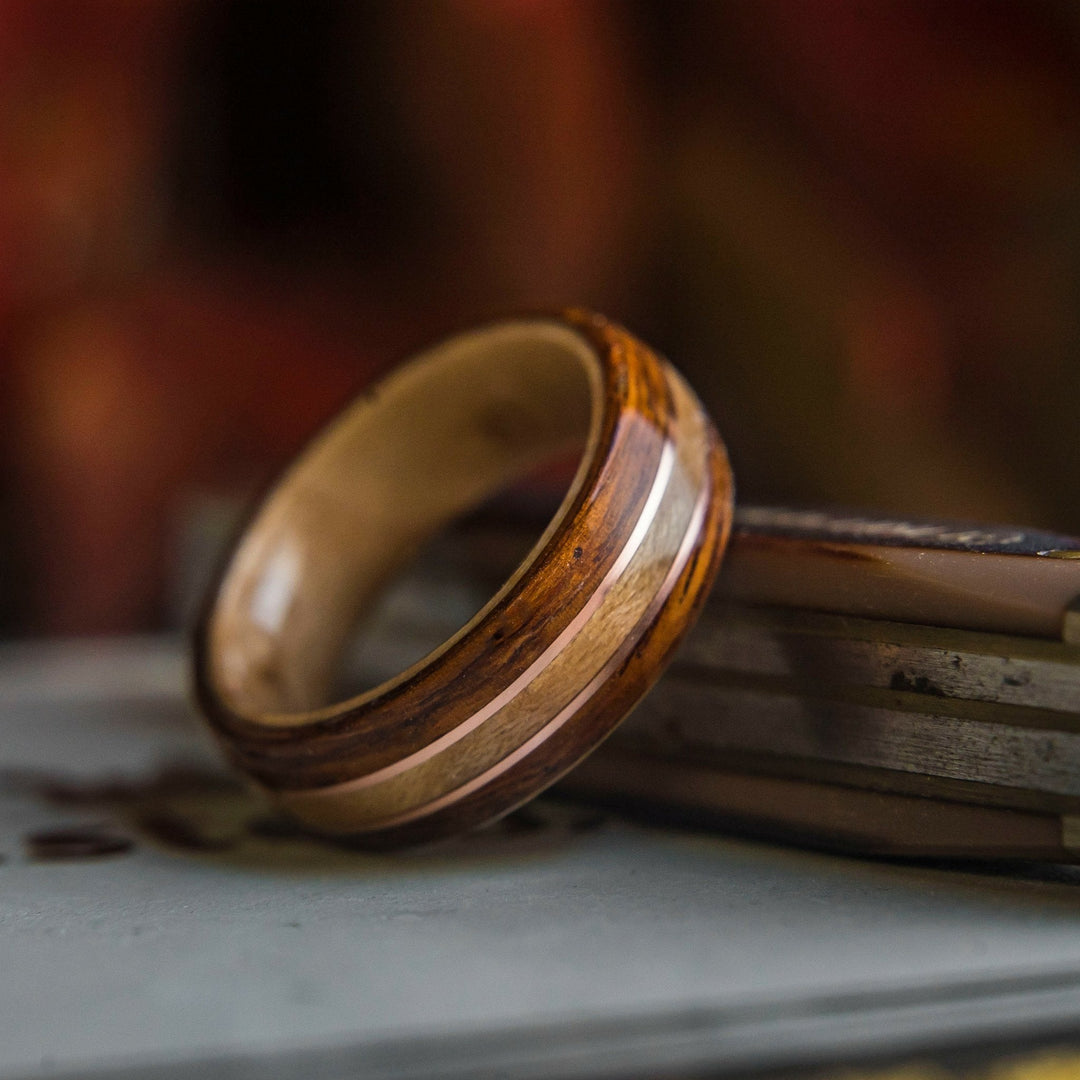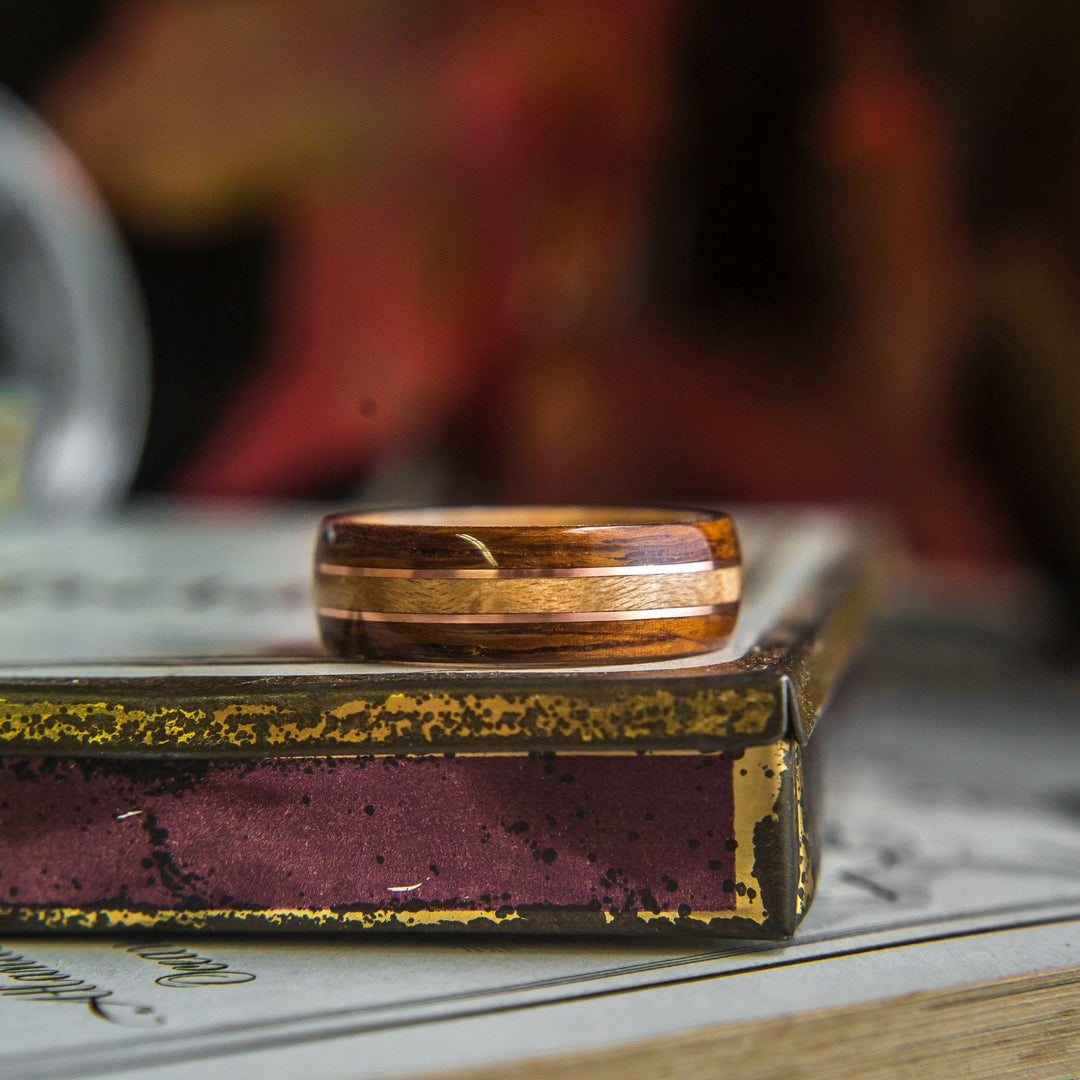 Mens Copper Bentwood Ring
---
Introducing our meticulously handcrafted masterpiece: The Bentwood Elegance. This unparalleled timepiece boasts a flawless fusion of rare birdseye and rich rosewood, elegantly accentuated by a double copper inlay. 
Specifications
Interior: Birdseye
Exterior: Rosewood
Exterior: Birdseye
Exterior: Double Copper Inlay
Width In Photo: 8mm
Handmade: Each ring is made to order and tailored to each individual.
*Any of the rings that are in the Bentwood Ring Collection are excluded from Northern Royal's 90 Day Return Policy, Exchange Policy, and Lifetime Warranty Policy. Bentwood Rings have their own seperate policies which can be found down below.
Bentwood Return & Exchange Policy
Unfortunately, we do not allow Bentwood Rings to be returned or exchanged for other rings due to the amount of of time and details that it takes to make these rings. Each ring is uniquely different and tailored to each individual customer.
The Bentwood Life Care Guarantee
Repairs are free of charge. You can send your ring in as many times as you'd like. We always do our best to try and avoid completely replacing your ring.  
What happens if the ring cannot be repaired?
We will always do our best to repair your ring. However, if your ring is unrepairable you will have to pay 65% of the ring price so we can make you a brand new ring.
After you make a purchase for a bentwood ring we will send you a free ring sizer. Once you have used the ring sizer please confirm your size here. Directions on how to use the sizer and how to confirm your size will come with the ring sizer. 
Already Received a ring sizer?
If you already ordered a ring sizer before purchasing a bentwood ring then there is nothing further you need to do. 
Why Do We Send Out a Ring sizer?
Besides the high level of craftsmanship and the amount of time that is spent on each ring. Northern Royal bentwood rings can be resized within a half size in either directions. If the ring needs to be resized more than a half size you would have to pay 60% of the ring price to allow for a brand new ring replacement. Of course you can still keep the ring that does not fit.
Ring Sizer Shipping Time?
U.S. Customers: 2 to 5 days.
Canada: 8 to 14
All Other International Countries: 9 to 22 days
Appearance Of Bentwood Rings
Bentwood rings are made with organic materials which can make each piece different than what may be shown in the pictures. Your ring may have variances in color, wood shades, or grain pattern from what is shown in the picture due to the natural material that are produced by nature. Making them all the more unique.
Current Time
The current turnaround times are given below.
U.S. Domestic: 40 to 50 Days

Canada: 45 to 60

International Shipping: 45 to 60 Days


Unfortunately, we do not accept discount codes on any of the bentwood rings.
Engraving
Bentwood Rings cannot be engraved. 
Bentwood rings are made to order. The current times below include the time it will take to make your ring and the shipping time.
U.S. Domestic
Currently bentwood rings are taking 40 to 50 days.
Canada
45 to 60 Days
All Other International Countries 
45 to 65 Days