Wood Wedding Band Guide - Durability & Bentwood vs. Inlay
Do Wood Rings Make Good
Wedding Bands?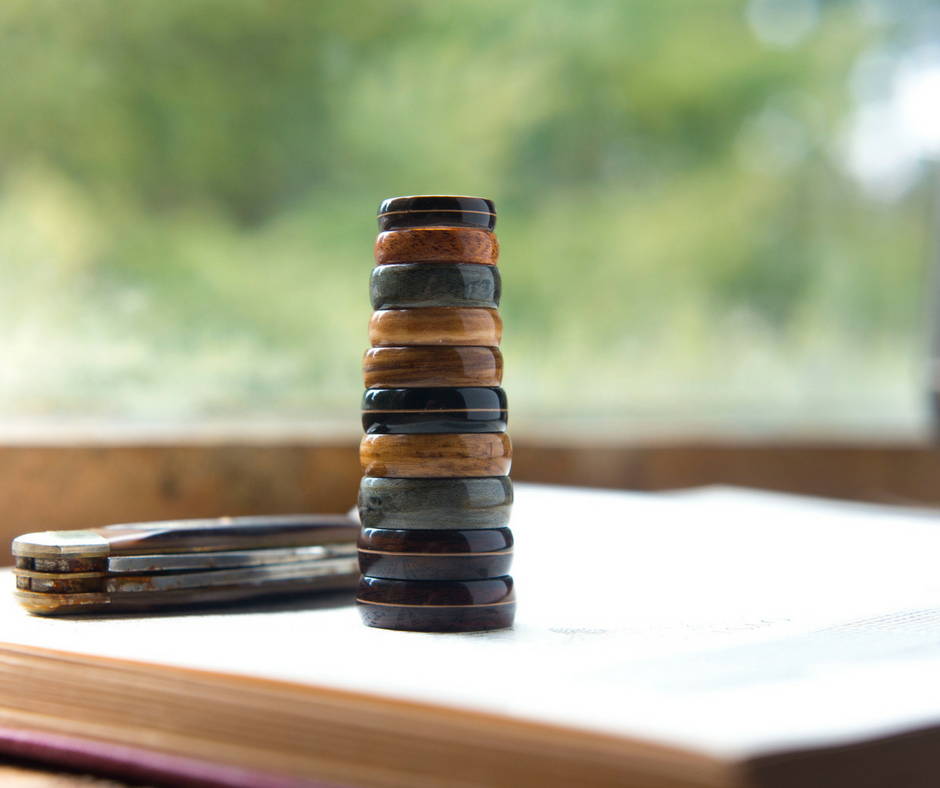 Wood rings may make beautiful and unique wedding bands but are they right for you? From the hundreds of emails we receive weekly, we picked the most common questions to help out figure out if they are right for you.
What This Guide Will Cover
The difference between Wood Inlay Rings and Bentwood Rings

The durability of each style

Are they right for you?

How they are made
Wood Inlay Rings Versus Bentwood Rings
The easiest way to compare a wooden inlay ring to a bentwood ring is to start with a definition of both. Then we'll discuss the creation and techniques and durability of each style.
Wood Inlay Ring: Metal ring, with wood inlaid within the metal.
Bentwood Ring: Solid wood rings, with wood strips wrapped around a cylinder.
How are Wood Inlay Rings Made?
Wood inlay rings are made by taking a metal core, carving out the center, and then inlaying a strip of wood through the center of the ring. Wood inlay rings are usually made out of tungsten, ceramic, or titanium.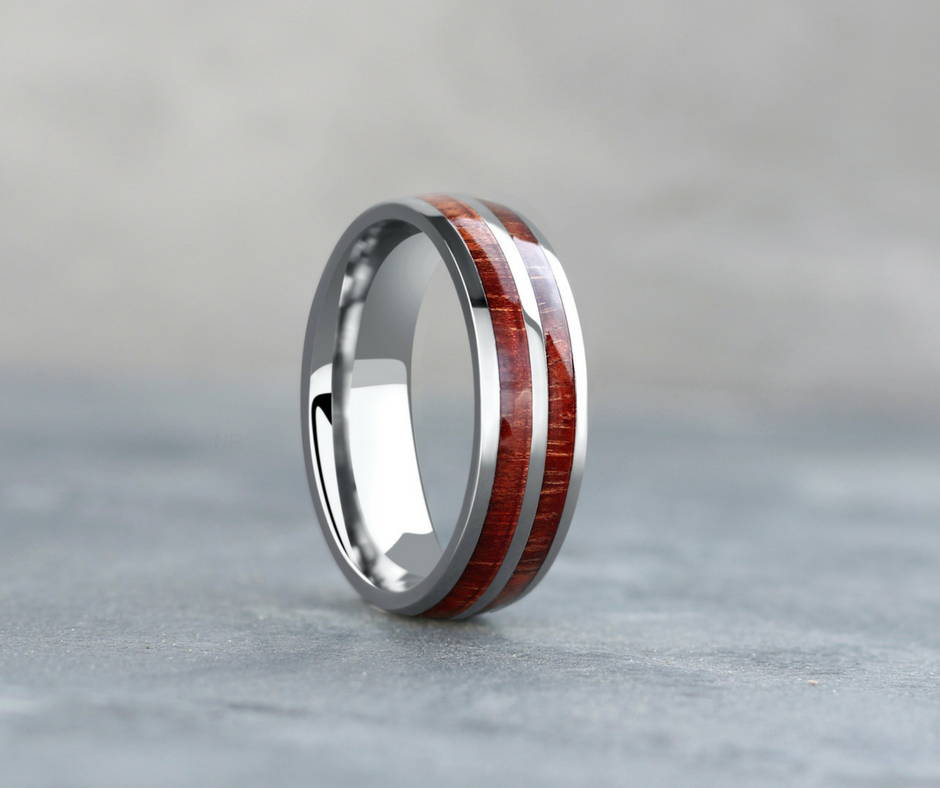 After the wood strip is added, a resin is applied over the wood. A resin is a special substance commonly used with jewelry that, in this case, covers and protects the wood, making it essentially waterproof and very durable. High-end resins are practically invisible, making the wood appear more natural.
Bentwood Rings
  There are few different methods when it comes to how bentwood rings are made. The following is the most common method:
The picture on the left is a thin strip of wood that is in the beginning stages of being bent. It will sit in a special solution for a few hours before it is wrapped even tighter. The picture on the right shows the thin wood being wrapped even tighter and into multiple layers which gives it great strength.
The Durability Of Wood Inlay Rings & Bentwood Rings
Durability
You don't have to search very hard to find a jeweler who claims their rings are indestructible. However, this claim is surprisingly inaccurate! Both bentwood rings and wood inlay rings are remarkably durable, though. Here's why:
Wood Inlay rings
Strengthened by the host metal (ceramic, tungsten, titanium, etc.) Due to the resin, they are 100% waterproof The resin also protects it from bumps against hard surfaces
Bentwood rings
Strengthened by the layering of wood strips tightly wrapped and bent. Special adhesive preserves the wood and greatly increases the strength Highly water-resistant (but not waterproof). Some people leave their rings on while swimming, without problems Generally resistant to bumps against hard surfaces, depending on wood. Some types of wood are harder than others. Any knicks can be repaired more easily (being wood, not metal)
The "Indestructible" Ring?
Let's not get carried away. In reality, almost any ring can be broken (Yes, even solid tungsten rings). The force it takes to break a wood inlay ring is equivalent to a 20-lb sledgehammer being dropped on the ring.
Required Maintenance
The Wood Inlay rings only need an occasional polishing with a micro-fiber cloth, to keep that ring looking nice. Bentwood rings are a little more difficult to maintain, since the special coating used to preserve them isn't typically sitting around the house. Most companies recommend you send your bentwood ring in though, and they'll polish it up by adding more of that bonding agent for you.
What Now?
Now knowing how our rings are made, and what they can stand up against, if you would like to get the hands of you or your loved one adorned with one of these treasures, here's a promo code to get you started! Be sure to check out our other pages and product descriptions, and thank you for letting Northern Royal be part of your celebration!