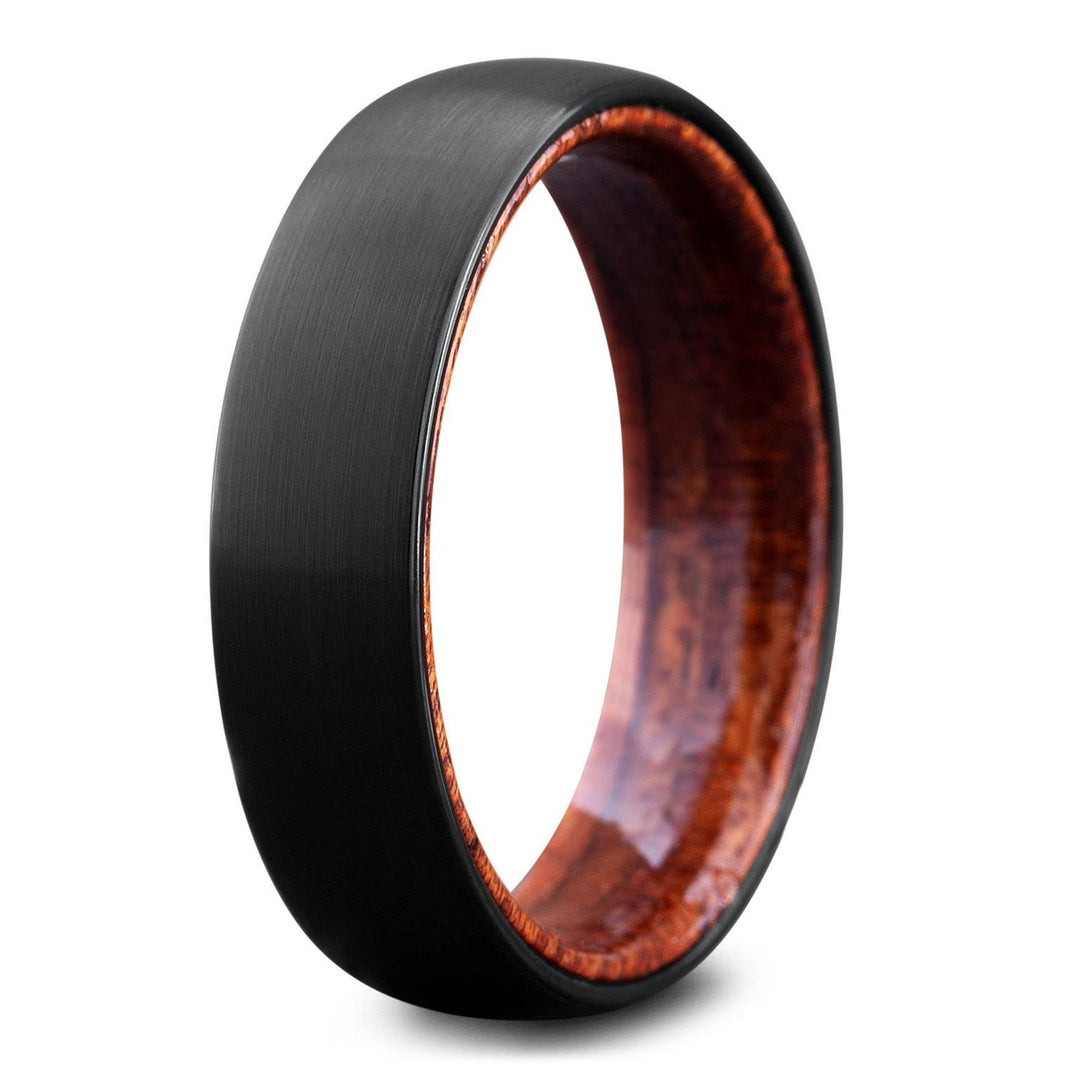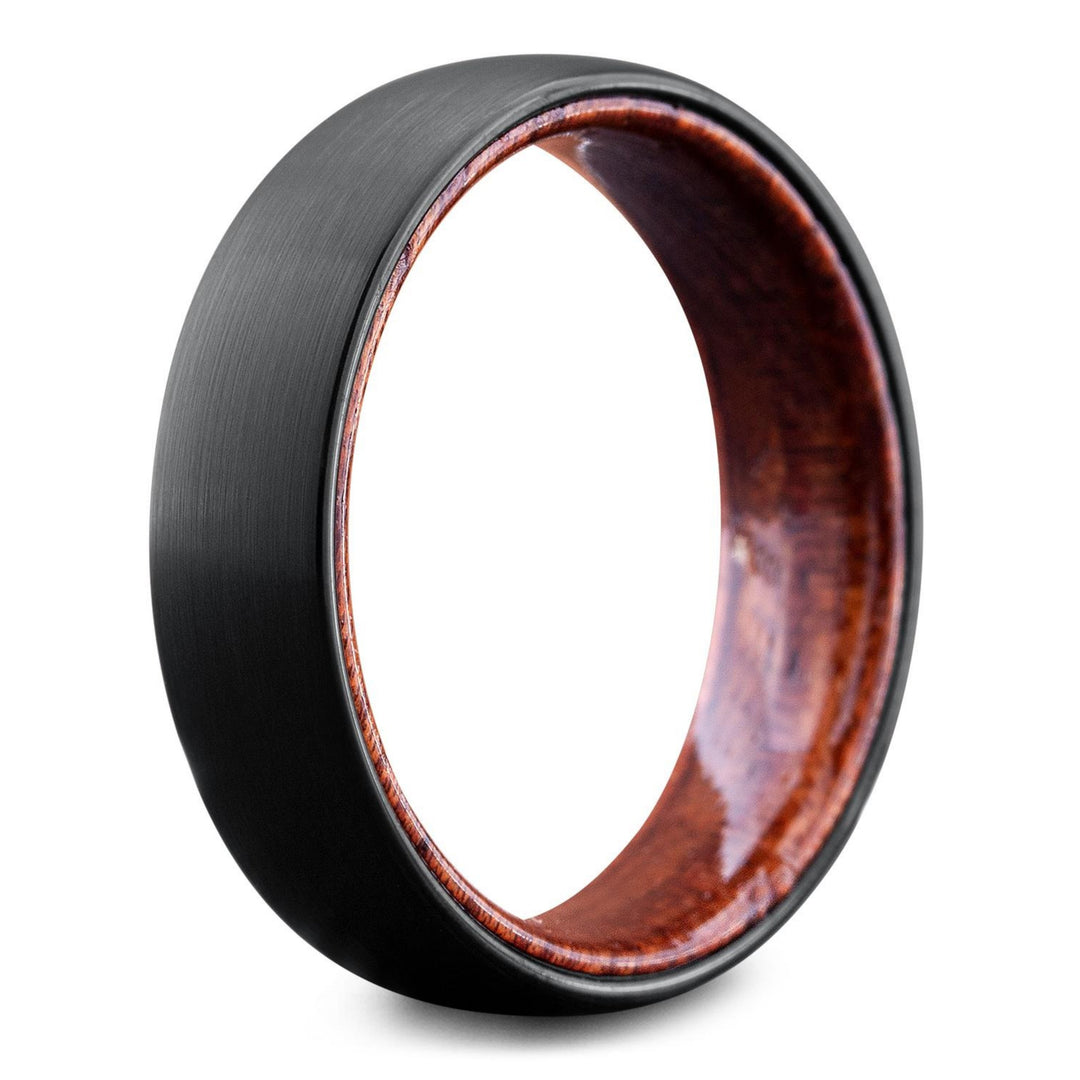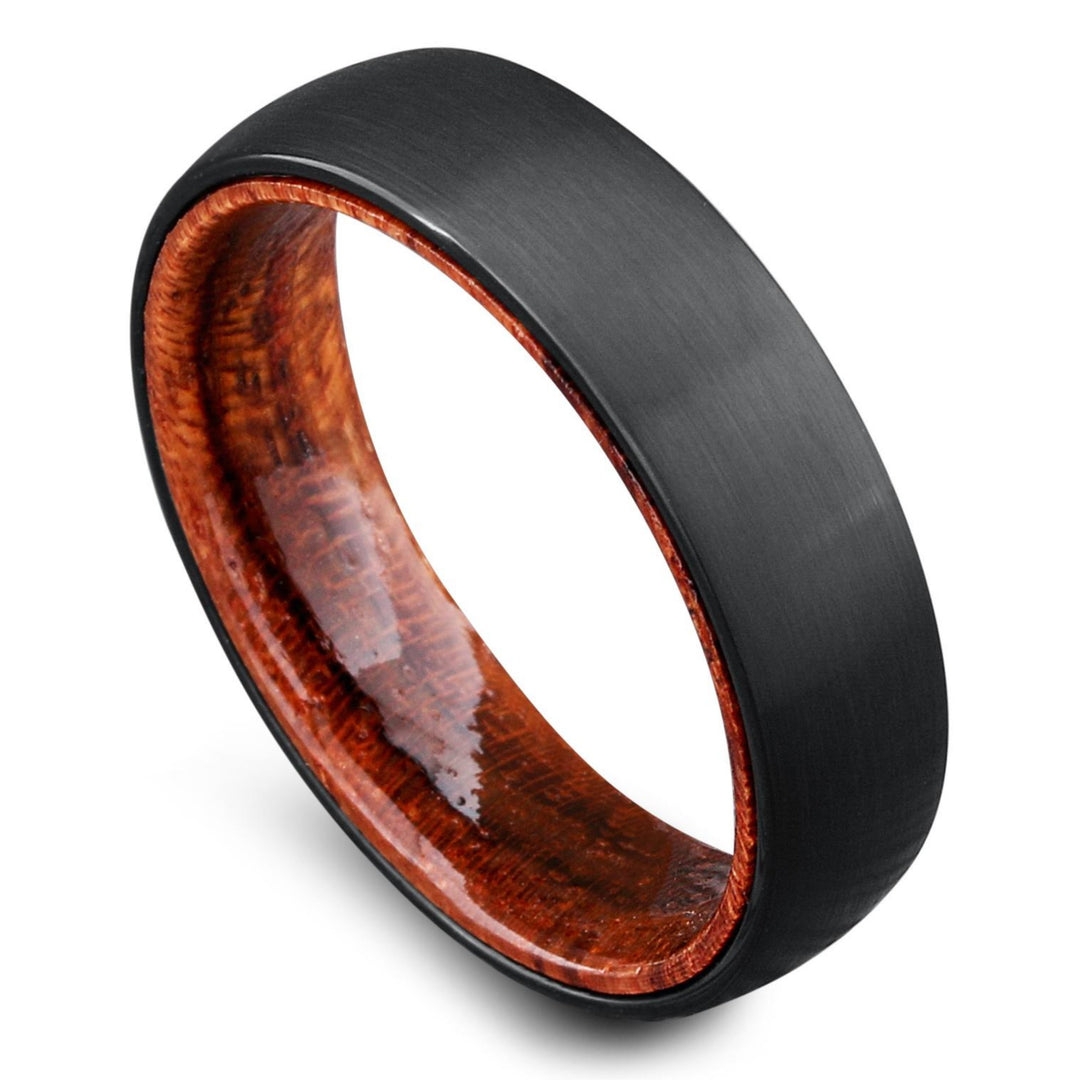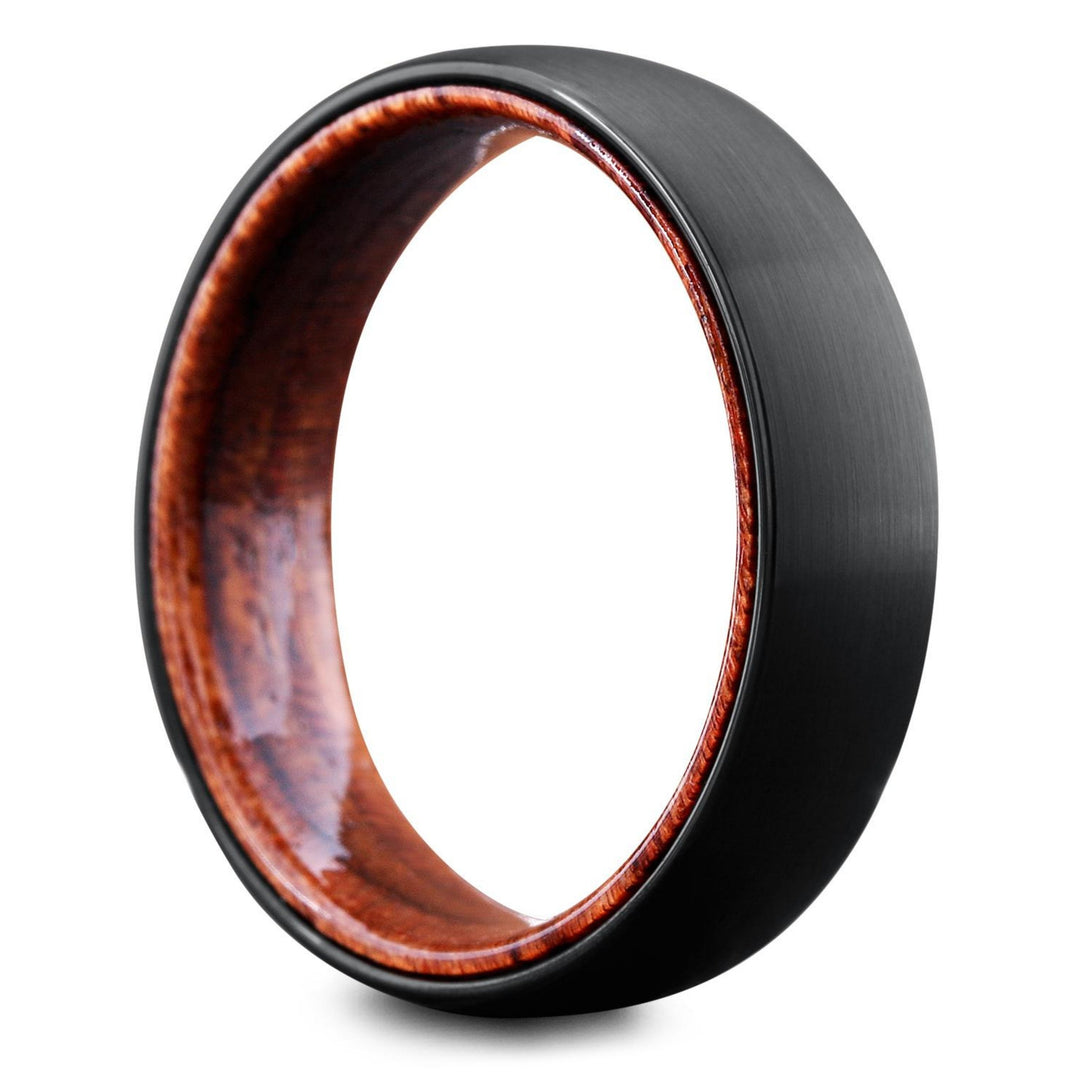 The Woodland Hybrid Ring (6mm Width)
---
The exterior of the ring achieves an urban design by constructing the outer ring out of black tungsten carbide. The interior of the ring is crafted out of koa wood with a smooth polish finish. 
This is a 6mm width ring. It's also available in an 8mm width. 
This ring has a wood interior. Rings with a wood interior cannot be engraved. 
Specifications 
Interior: Koa Wood
Exterior: Tungsten Carbide
Exterior Finish: Matte Textured Top
Comfort-Fit
Width: 6mm Or 8mm
Ring Profile: Oval / Dome
High Scratch Resistant
Waterproof 
Shipping
Free Shipping on All Orders
*Ships Within 24 Hours.
U.S. Domestic Shipping: 1 to 4 Days
International Shipping: 9 to 24 Days 
Canada orders usually take 8 to 15 days.
We use the United States Postal Service for both domestic and international shipments. You will receive an email with a tracking number when your orders ships out. If you would like to purchase expedited shipping please contact us either before you place your order or right after. 
*All rings ship from Southeast, Michigan.
U.S Domestic Shipping
Shipping Time: Free 3 to 5 Days
All orders come with a tracking number.
International Shipping 
Canada
Shipping Time: Free 8 to 28 Days (USPS & Canada Post)
Shipping
*Most orders Ship Within 24 hours or less.
Free Shipping for U.S. & Canada
All packages ship from Southeast, Michigan.

Faster shipping Available at checkout.
90 Day Hassle Free Return Policy
If you do not like it in the first 90 days, you can send it back for a full refund. You must send it back in the condition it was in. If you wish to return it outside the 90 day period we will work with you on it.
120 Day Ring Exchange 
If the ring does not fit send it back and we will send you a second one for free. If you purchased the ring well before your wedding date and it is passed the 120 days we will still exchange it for free.
The Wedding Policy
Do you have an upcoming wedding?
The 120 day ring exchange/resizing and 90 day return will start when you receive your ring. It then will reset again on your wedding day.
*If you do NOT have an upcoming wedding, then our 90 day return, free resizing and lifetime warranty will start when you receive the ring.
Lifetime Warranty 
Lifetime Warranty
All of our rings are covered by our Lifetime Warranty. 
In the rare event, your ring becomes damaged in any way we will replace it for free in the first year. The only thing you have to pay is the shipping to send it back. 
What happens after a year?
If your ring becomes damaged after 1 year we will replace it for a small deductible of only $45.00. You will receive a brand new ring. There is no limit on how many times you can use the warranty. 
If Your Ring Does Not Fit After A Year
If you ring needs resized after 120 days (This is rare). A deductible of $30.00 will allow you to exchange your ring for a new size. Most of our rings are made of alliterative metals which means they cannot be resized. This is why we will send you a new ring. 
What Our Warranty Does Not Cover.
Lost rings. Your ring is not covered if you lose the ring. 
We cannot always guarantee we will carry your ring you purchased in the future. If you ring is unavailable in the future we will allow you to pick a new ring of equal similar value. 
Note: The 90-day return, 120-day ring exchange, and warranty does not start until after your wedding day. We just ask you send us some sort of receipt or invoice from your wedding day so we can confirm it.