Canada's Top 10 Most Unique Mens Wedding Rings - Tungsten Rings & Wood Rings
Canada's Most Unique Mens Wedding Bands
Are you a Canadian on the hunt for an extraordinary wedding band that perfectly complements your beloved partner? Perhaps you've explored the offerings at popular jewelry retailers like Michael Hill or Peoples, only to find yourself disappointed by their lackluster selection and exorbitant prices. Let's be honest here, the last thing you want is for your husband to don a ring that countless other Canadian men already wear. After all, your husband is one-of-a-kind, and he undoubtedly deserves a wedding ring that reflects his individuality in every way.
That very sentiment ignited the inception of Northern Royal, our esteemed jewelry brand born in Ontario, Canada. Today, we proudly reside a mere 30 minutes from the Windsor border, nestled in the picturesque state of Michigan. It's true, we do showcase a selection of rings that you may find at those prominent jewelry chains in Canada, but here's the remarkable difference – our prices are slashed by more than half. Don't just take my word for it, head over to our website and witness the undeniable evidence yourself. Rest assured, our commitment extends beyond affordability. We guarantee an assortment of men's wedding rings so exquisitely distinctive that they simply cannot be found elsewhere.
Top Ten Unique Wedding Rings That Canadians Purchase From Northern Royal
10. The Vintage Wine Barrel Ring
9. Mens Brushed Tungsten Wedding Band With 18K Rose Gold Interior 
Canadians love rose gold! This mens brushed tungsten ring pulls in both classy and modern with the polish rose gold interior and brushed top.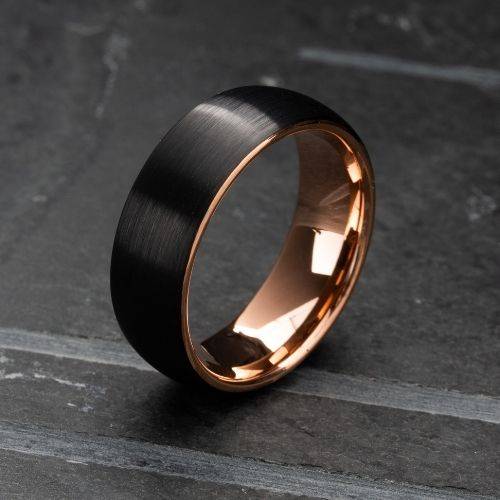 8. Muskoka - Men's Black Wooden Wedding Ring.
This ring is the namesake of the Muskoka's of Canada, an outdoorsman's paradise where freshwater lakes, thick piney forests, and a variety of wildlife abound. If this unique men's wood ring was crafted out of maple wood instead of koa wood I am sure this wood be the number 1 men's ring in Canada.
7. Banff - Men's Black Tungsten Ring With Wood Inlay
The number 7 top selling men's tungsten ring is our hybrid ring. We call it the hybrid ring because it does such a good at pulling in classic and modern.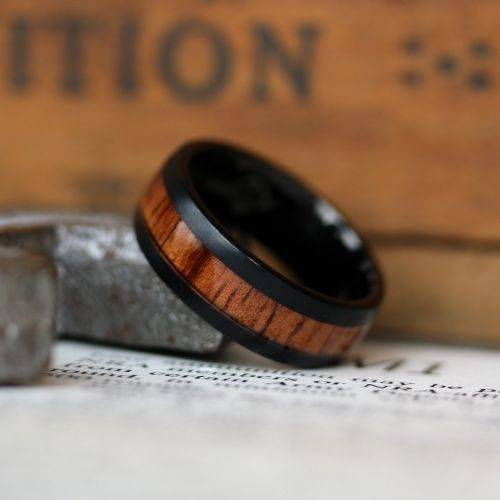 We are not really sure why this unique blue and black wedding ring is so popular among Canadians. Blue Jay's blue maybe? Go Blue Jay's!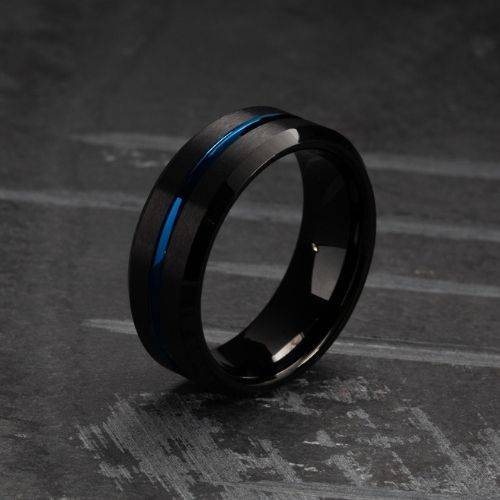 5. The Black Forest Woodland Wedding Ring
Inspired by the vast, dense expanse of the Black Forest in Germany, this rugged wedding ring is designed with outdoorsmen in mind. It is extremely durable and waterproof, which are immensely helpful features for anyone exploring nature.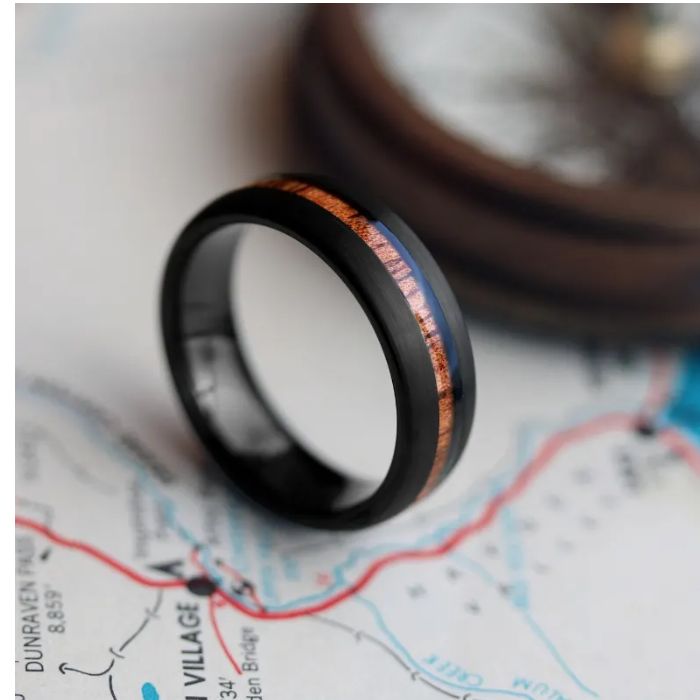 4. The Fishing Line Wedding Ring
The Fishing Line Wedding Band is a real catch among Canadians, eh? It's like saying, "Our love is as strong as a Northern pike on the line!" Plus, it's a great conversation starter at the local Tim Hortons, where you can proudly boast, "Yep, I caught myself a spouse with this beauty!" So, why settle for a regular old ring when you can show off your Canadian spirit and angling skills with a fishing line wedding band, eh?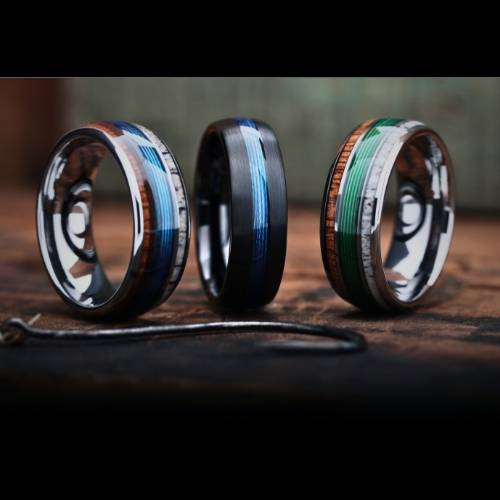 A popular trending wedding ring among Canadians. A combination of modern and rustic.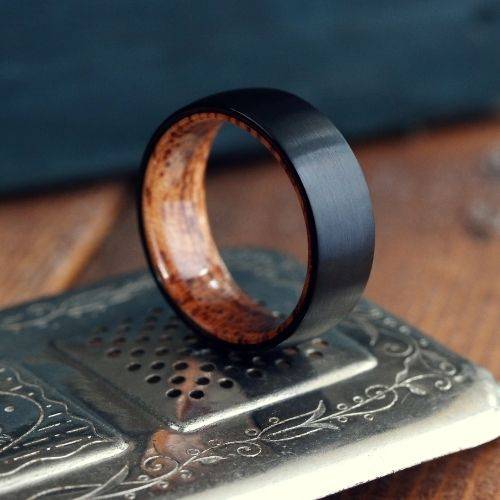 2. Brushed Domed Tungsten Wedding Ring
Introducing the "Slapshot Symphony" wedding band, the number one choice for the toughest Canadian hockey players tying the knot! This bad boy is so incredible, it made it to the esteemed list of the top 10 wedding bands for a reason even Wayne Gretzky would envy.
1. 6mm Tungsten Wood Ring With Tungsten Center Stripe
You can see why this ring is so unique. Where else would you find a mens tungsten wood ring in Canada or even in the U.S.? This mens wood ring is 100% waterproof and extremely durable.